Is Olive Oil Consumption Suitable for Colorectal Can-cer? In Vivo Preliminary Studies on Azoxymethane-In-duced Colon Cancer in Rats
Keywords:
Preneoplastic, Olive oil, Aberrant crypt foci, Azoxymethane, Colorectal, Cancer.
Abstract
The incorporation of olive oil in the diet may have promoting or inhibitory effects on col-orectal cancer (CRC). Objective: In this study, azoxymethane (AOM) was used to mimic CRC in rats and the effect of olive oil was correlat-ed with the cancer progression in the colon of the rats. Design: Six weeks old Sprague-daw-ley male rats were randomized into 4 groups namely, naïve, indomethacin, saline and olive oil. Main outcome measures: This study was to investigate the effect of olive oil on preneo-plastic cancer properties on the colonic mucosal surface for any tumors and the aberrant crypt foci (ACF). The induction AOM for the CRC by subcutaneous injection of 20 mg/kg.Rats were given 10 mg/kg b.w. of indomethacin dissolved in 0.9% saline by oral gavage for 4 weeks (28 days) as a positive control group.The negative control group was given 0.9% sodium chloride solution. Results: The experimental treatment compound, olive oil, was administered oral-ly with a dosage of 7% daily food intake for 4 weeks (28 days). At week 6 (day 42), all ani-mals were sacrificed by cervical dislocation and the colorectum was excised for histological ex-amination.Histological sections were achieved using a microtome and histological sections were observed using a microscope. The mean body weights of the rats at 42 days are naïve – 238.5 ± 33.2, positive control – 251.5 ± 31.8, negative control – 231 ± 2.8 and treated group 262 ± 28.3. A total 3 ACF were found in the negative group compared to other groups. The crypts appeared regular with circular luminal openings and were arranged closely packed together in the naïve group. Crypts in the pos-itive and treated group also had a similar ap-pearance like naïve group.Conclusions: Olive oil inhibits the preneoplastic cancer properties ACF and maybe an incorporate into diet during CRC treatment or management.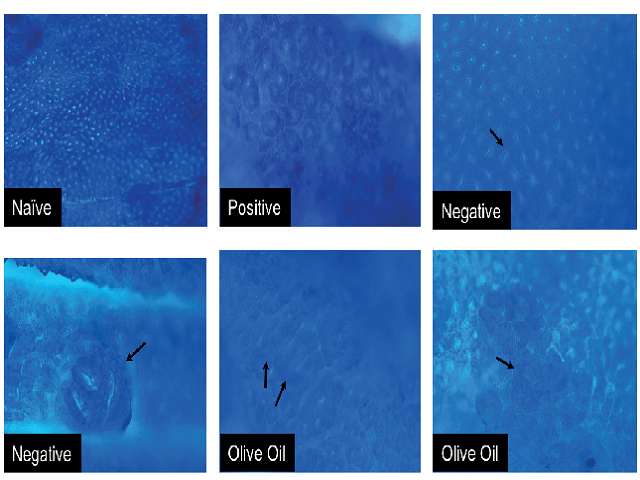 Downloads
How to Cite
David, S. R., Taufik, A. B. M., Chee, L. Y. ., Balaraman, A. K., & Rajabalaya, R. . (2022). Is Olive Oil Consumption Suitable for Colorectal Can-cer? In Vivo Preliminary Studies on Azoxymethane-In-duced Colon Cancer in Rats. Current Trends in Biotechnology and Pharmacy, 16(4), 500–510. https://doi.org/10.5530/ctbp.2022.4.83