Formulation Evaluation and Characterization of Mouth Dissolving Film of Cisapride
Keywords:
Cisapride, Mouth-dissolving film, HPMC 3cps, Lycoat RS 720, Glycerine
Abstract
Mouth dissolving films offer an attrac-tive route for systemic drug delivery. MDFs are an alternative to fast dissolving tablets, Chew-able tablet, due to their faster dissolution rate. Some drugs are absorbed from the mouth, pharynx and esophagus as the saliva passes down into the stomach. Fast mouth dissolving films have become popular as a new delivery system. They disintegrate or disintegrate in the oral cavity without the need to swallow or chew.The objective of the present study was to de-velop mouth dissolving films (MDF) of Cisapride used to treat heartburn in patients with gastro-esophageal reflux disease (GERD), with fast disintegration, optimum morphological proper-ties, and mechanical strength. Lycoat RS 720, Hydroxypropylmethyl-cellulose 3cps were used as polymers and Glycerine as plasticizer. Films were prepared by solvent casting technique. Pa-rameters like in-vitro disintegration time, tensile strength, content uniformity, folding endurance, swelling index, and in-vitro drug release were evaluated. In-vitro dissolution studies showed that 99% of Cisapride was released within 5 min with an average disintegration time of 60 sec. UV and FTIR spectrophotometry were used to identify drug-excipient interactions. Accelerat-ed stability studies were performed as per ICH guidelines wherein the MDFs were stable for 2 months at 40 ± 2 °C and 75 ± 5% relative hu-midity.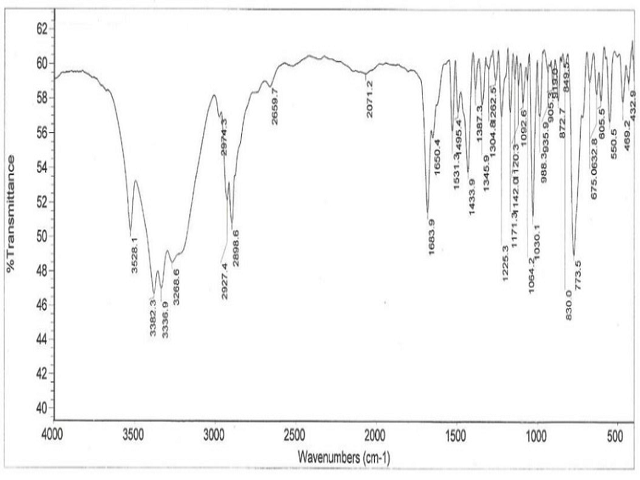 Downloads
How to Cite
Pingale, P. L. ., Shinkar, D. M., Boraste, S. S. ., & Amrutkar, S. V. (2022). Formulation Evaluation and Characterization of Mouth Dissolving Film of Cisapride. Current Trends in Biotechnology and Pharmacy, 16(4), 490–499. https://doi.org/10.5530/ctbp.2022.4.82