Antimelanogenic and Anticancer Activity of Isorhamnetin isolated from Acalypha indica Linn.
Keywords:
A375 cell line, Isorhamnetin, Cell cycle arrest, Docking, Bax Protein
Abstract
Hyperpigmentation refers to the skin darkening which is mainly due to the increased production of melanin. Many synthetic drugs are available in the market to cure hyperpigmenta-tion but produce various side effects. Medicinal plants are the way forward to curing hyperpig-mentation with less side effects and benefi-cial to the consumers. Acalypha indica is one of the traditional medicinal plants that is used for treating various skin disorders but has not been explored for hyperpigmentation and oth-er aesthetic treatments. Therefore, the present study is aimed at isolation of active compounds from Acalypha indica for antimelanogenic and anticancer activity on human melanoma cell line A375. The ethyl acetate fraction of A. in-dica was chosen from the sequential fraction since it has flavonoids and polyphenols in high quantity when compared with other fractions. The compound was isolated using column chro-matography technique and further character-ized by various analytical techniques including mass spectra, FT-IR spectra, and 13C-NMR and 1H-NMR. Cytotoxicity study on A375 melanoma cell line was studied using MTT assay and the IC50 value was calculated. The mode of cell death was studied by acridine orange and ethid-ium bromide staining. Melanin and Tyrosinase activity was studied using the cell line. Western blotting was performed using various pro-apop-totic and apoptotic genes. Results revealed that the compound isolated was Isorhamnetin and the compound showed significant antiprolifer-ative activity with the IC50 value of 8.26 μg/ml. The cell cycle analysis revealed that the com-pound arrested the cells at sub G0/G1 phase with the depletion of cells in S and G2-M phase. The anti-apoptotic genes such as Caspase 3, Caspase 9 and BCL-2 were down regulated and Bax protein was upregulated.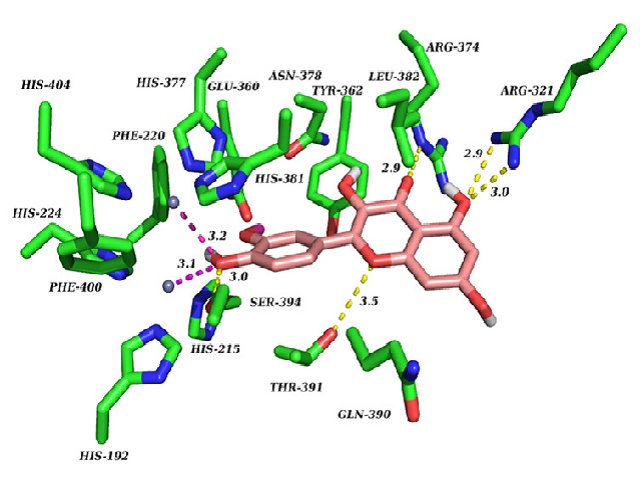 Downloads
How to Cite
D, K. ., & V, A. (2022). Antimelanogenic and Anticancer Activity of Isorhamnetin isolated from Acalypha indica Linn. Current Trends in Biotechnology and Pharmacy, 16(4), 445–455. https://doi.org/10.5530/ctbp.2022.4.78