Host Specificity and Symbiotic Association Between InDigenous Rhizobium Strain and Arachis hypog
Keywords:
Arachis hypogaea, Host specificity, Nodulation, Bradyrhizobium sp. strain.
Abstract
Legume nodules are a major source of accessible nitrogen in the biosphere. A symbiotic interaction between soil bacteria termed rhizobia and other legume plants results in the formation of nitrogen-fixing nodules. The goal of this research was to use bio-inoculants in conjunction with specific legume plant diversity to improve nodulation and plant growth. The method entails the organic selection of 36 rhizobial isolates, of which 6 strains were isolated to determine the efficacy of relative host-specific inoculation on nodulation and development in Arachis hypogaea legumes. The six isolates are identified as Bradyrhizobium yumangenesis sps. AB5 (NCBI Accession no.: ON724398), B. japonicum BD5 (ON724369), B. elkanii KT5 (ON729445), B. arachidis ET5 (ON729963), B. liaongense JN5 (ON734019), and B. elkanii NP5 (ON734425). All promising combinations of preferred rhizobial strains were examined in sterile circumstances for improved nodulation and to screen for the best isolate with enhanced features by inoculation in diverse soils. The nitrogen concentration of Arachis hypogaea ranged from 1.2 to 2.9 percent. The strains from Amrabad were shown to be highly host specific for Arachis hypogaea plants, and when inoculated, they boosted nodulation and plant growth. Because of the useful traits in AB5, more research was done, using this Bradyrhizobium yumangenesis sps. AB5 (NCBI: ON724398). This rhizobium species AB5 was studied for its ability to unravel and improve crop production in barren, polluted, and agricultural soils, with improved Arachis hypogaea plant features. This method may be employed across the globe of same climatic conditions for the retrieval of plants from soils where agriculture has failed.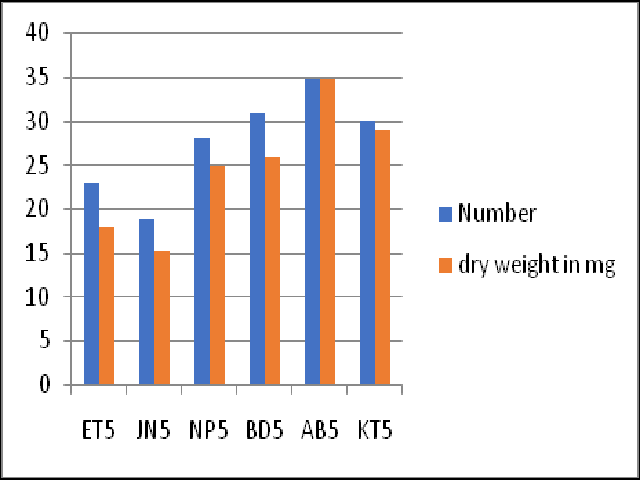 Downloads
How to Cite
K, S. K., & Pindi, P. K. . (2022). Host Specificity and Symbiotic Association Between InDigenous Rhizobium Strain and Arachis hypog. Current Trends in Biotechnology and Pharmacy, 16(4), 456–470. https://doi.org/10.5530/ctbp.2022.4.79