Development and Validation of a RP-HPLC Method for the Determination Atropine and its Impurities in Pharmaceutical Dosage Form as Per ICH Guidelines
Keywords:
Atropine sulfate, Estimation of related substances, Liquid chromatography.
Abstract
The analysis of improved RP-HPLC method for the separation and quantifi cation of Atropine sulfate and its impurities are described. Samples are analysed by means of reverse phase (RP-HPLC) using a Phenomenex Kinetex C18 (250x4.6mm, 5μm), and the mobile phase consists of two Channels A and B. Channel-A pH 2.50 buff er: acetonitrile (950:50 %v/v) and Channel-B: pH 2.50 buff er: acetonitrile (200:800 %v/v). The fl ow rate is 2.0 ml/min. The column temperature was maintained at 50°C and sample temperature was maintained at (5°C) and wavelength fi xed at 210nm UV-detection. It is found that the method of RP-HPLC with UV-detection system for the analysis of Atropine sulfate impurities are straight forward and applied in qualitative and quantitative analysis. The developed LC method was validated with respect to specifi city, precision, linearity, ruggedness and robustness. Validation study compared as per ICH guideline.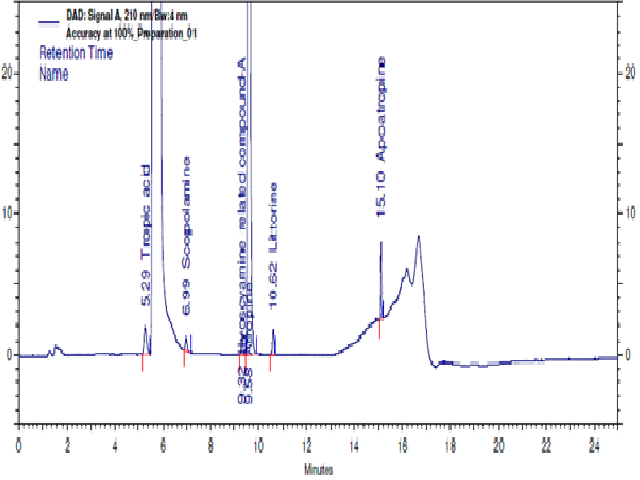 Downloads
How to Cite
Rao, . N. V. ., Reddy, K. J. ., Bharath, P. ., & Ramachandran, D. (2022). Development and Validation of a RP-HPLC Method for the Determination Atropine and its Impurities in Pharmaceutical Dosage Form as Per ICH Guidelines. Current Trends in Biotechnology and Pharmacy, 16(3), 417–428. https://doi.org/10.5530/ctbp.2022.3.55