Utilization of Cellulase from Colocasia esculenta in Treatment of Cotton Fabric
Keywords:
Enzymatic treatment, Cellulase: Zymogram, SEM
Abstract
More than 1 million tons of textile waste has been generated each year out of which only 15% is recycled and the rest is causing environmental pollution. Textile waste is recyclable creating huge opportunities for the researchers to come up with a technique which will benefit the environment. Biological treatment of agricultural, industrial, organic and toxic wastes is rapidly increasing due to both economical and ecological reasons. Peel and Corm of underground carbohydrate rich vegetables (Colocasia esculenta, Amorphophallus paeoniifolius, Ipomoea batatas, Solanum tuberosum, Raphanus sativus, Daucus carota) was checked for presence of cellulase activity which was confirmed by CMC assay, Filter paper assay, Congo red plate method. On comparing the activity of different crude extracts, Colocasia esculenta and Daucus carota peelshowed highest specific activity 1346.81 U/mg (CMCase) and 156.17 U/mg (Filter Paper assay) and Raphanus Sativus corm showed highest CMCase and filter paper activity of 296.7 U/mg and 534.11 U/mg respectively. Molecular weight of cellulase isolated from peel of Colocasia esculenta is approx. 43000 Dalton. Cellulase activities towards CMC was confirmed by presence of clear bands in Zymogram studies. Change in cotton fabric texture with increased absorption capacity is confirmed by weight loss studies and SEM analysis. Cotton fabric with increased absorption capacity can be combined with the bioreactor technology for the treatment of industrial effluents.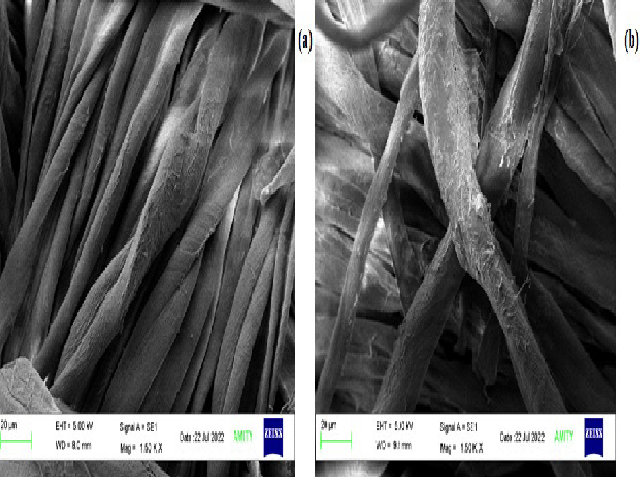 Downloads
How to Cite
Kakkar, . P. ., & Wadhwa, N. . (2022). Utilization of Cellulase from Colocasia esculenta in Treatment of Cotton Fabric. Current Trends in Biotechnology and Pharmacy, 16(3), 407–416. https://doi.org/10.5530/ctbp.2022.3.54