Extraction and Physiochemical Characterization of Black Gram Mucilage for Potential Use as Pharmaceutical Excipient
Keywords:
Black Gram Mucilage, Polysaccharide, Extraction, Vigna Mungo, Potential use
Abstract
Mucilage (polysaccharides) are being frequently used in pharmaceutical dosage forms as pharmaceutical excipient. Mucilage obtained from natural sources, are highly in demand due to of its non-toxic chemical inert, safety properties and are easily available, and most important thing is biodegradable. Hence newer gum and mucilage are investigating regularly in research field. Black gram seed's mucilage one of them which have been less explored. Extraction of mucilage (polysaccharide) from black gram seed and its characterization for potential use in pharmaceutical application. Mucilage from Vigna mungo (black gram) seed was isolated by maceration precipitation method. Spilt black gram seeds were converted into Corus powder form after that maceration-precipitation method was employed to extract mucilage from black gram seed. Further it was subjected to characterization of mucilage for potential uses in pharmaceutical application. Mucilage from black gram seed was extracted successfully which % yield was found to be 33.78% and solubility of mucilage was found to be soluble in hot water and insoluble in organic solvent. Other characterization parameters were studied for evaluation of mucilage that found in right direction of mucilage application. Solubility, swelling behavior, viscosity, pH value, flow property had shown its potential use in pharmaceutical application such as gelling agent, as a binder, as a disintegrant, suspending agent. Further it has to be incorporated in sustained release controlled release formulation.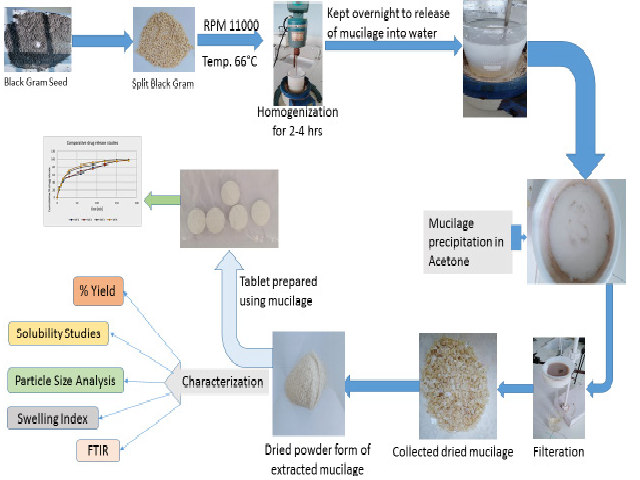 Downloads
How to Cite
Lal, G., & Bajpai , M. . (2022). Extraction and Physiochemical Characterization of Black Gram Mucilage for Potential Use as Pharmaceutical Excipient. Current Trends in Biotechnology and Pharmacy, 16(3), 384–395. https://doi.org/10.5530/ctbp.2022.3.52