Protective Effect of Non-Selective COX Inhibitor On Lipopolysaccharide-Induced Neuroinflammation in Rats Through NF-kB Pathway
Keywords:
Inflammation, Neurodegenerative disorders, Lipopolysaccharide, Cytokines, RT- PCR
Abstract
Inflammations have been implicated in a variety of acute as well as chronic neuro- logic and neurodegenerative disorders. In the current work, we have investigated that selec- tive or non-selective COX inhibitors can reduce the inflammatory response induced by bacte- rial endotoxin Lipopolysaccharide (LPS). Rats were pretreated with COX -1 selective inhibitor (Resveratrol 10 and 20mg/kg), COX-2 inhibitor (Celecoxib 10 and 20mg/kg) or non selective COX inhibitors (Aspirin 10 and 20mg/kg) for 15 days followed by single challenged LPS (100µg/ kg., i.p.). In behavioural tests, pretreated with non-selective COX inhibitors reversed the lo- comotor and exploratory behavior produced by LPS in the open field test and actophotometer. Reverse transcriptase-polymerase chain reac- tion analysis indicated that aspirin significantly attenuates LPS induced upregulated the tumour necrosis factor-α (TNF-α) and inducible nitric ox- ide synthases (iNOS) expression in rat's brain. In histopathological analysis, aspirin reversed the neuronal damage induced by LPS when compared to selective COX inhibitors. Mecha- nistically, aspirin strongly attenuated the activa- tion of transcription factor nuclear factor kappa B (NF-kB). Having taken the data together, we strongly suggested that a non-selective COX in- hibitor is useful for mitigating neuroinflammatory conditions by block inflammatory cytokines via the nuclear factor kappa B pathway.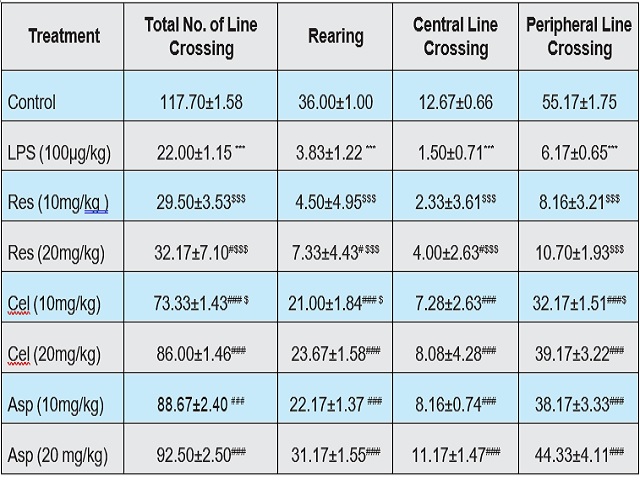 Downloads
How to Cite
Prakash R, & Ramanathan M. (2022). Protective Effect of Non-Selective COX Inhibitor On Lipopolysaccharide-Induced Neuroinflammation in Rats Through NF-kB Pathway. Current Trends in Biotechnology and Pharmacy, 16(Supplement 1), 102–110. https://doi.org/10.5530/ctbp.2022.2s.36