Phytochemical Analysis, Antioxidant and Cytotoxicity Activities of In Vitro Cultures of Gentiana Kurroo Royle
Keywords:
Gentiana kurroo, Callus, In vitro shoot, In vitro root, Phytochemicals, Antioxidant activity, Cytotoxicity
Abstract
Gentiana kurroo Royle is an endemic plant of the Himalaya and the roots and rhi- zomes of this species possess pharmaceutical- ly important seco-iridoid glucosides. Traditional- ly, wild-grown plants are widely used for various ailments. Therefore, for the first time, the in vi- tro samples like callus, shoot, and adventitious roots of G. kurroo were analyzed for total phe- nolics, flavonoids, antioxidant activity, and cyto- toxicity effect. The antioxidant activity of in vitro G. kurroo cultures was analyzed using different biochemical assays namely, diphenyl-picrylhy- drazyl (DPPH), 2, 2'-azino-bis (3-ethylbenzothi- azoline-6-sulfonic acid) (ABTS), ferric reducing antioxidant potential (FRAP), and total antioxi- dant capacity (TAC). Among the samples test- ed, adventitious roots showed the highest an- tioxidant potential and total phenols (91.2 mg/g DW) and flavonoids (32.43 mg/g DW). The MTT assay showed the IC50 of 550 µg/mL for in vi- tro adventitious root extract on human umbilical cord mesenchymal stem cells (hMSCs). There- fore, the in vitro roots can be used as a viable option to meet its great demand and replace its natural sources.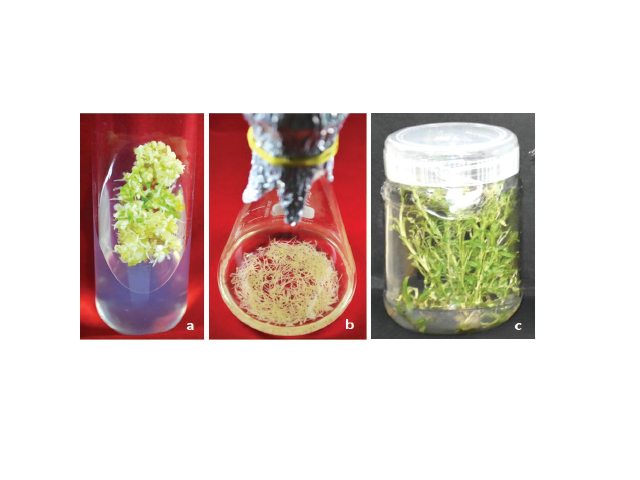 Downloads
How to Cite
Alphonse, M. ., & Thiagarajan, K. (2022). Phytochemical Analysis, Antioxidant and Cytotoxicity Activities of In Vitro Cultures of Gentiana Kurroo Royle. Current Trends in Biotechnology and Pharmacy, 16(Supplement 1), 64–71. https://doi.org/10.5530/ctbp.2022.2s.32