Transportation and Removal of E.coli K-12 Through Selenium Doped Zeolite Packed bed Reactor
Keywords:
Escherichia coli, Zeolite, Selenium, Composite, Breakthrough curves, Pathogenic microbes
Abstract
At present, water pollution has become a serious threat throughout the world. WHO rec- ommends Escherichia coli as a faecal indicator to analyze the quality of water. This investiga- tion aimed to study the fate and its removal from drinking water and secondary treated wastewa- ter in the zeolite (Z) and selenium doped zeolite composite (Se-Z) packed column system. A se- ries of experiments were carried out to establish the breakthrough curve and to assess the col- umn performance. Breakthrough curve analysis was conducted by varying bed height (2 to 4 cm) and flow rate (1 to 2.5 mL/min) with an initial E. coli concentration of 4 ×1010 mg/L. The remov- al efficiency of Z and Se-Z were compared. In comparison, Se-Z exhibited a higher percentage of E. coli removal of 66.0% for drinking water and 70.18% for secondary treated wastewater.E. coli was efficiently removed by the fixed bed reactor packed with Se-Z with an adsorption ef- ficiency of 14.4*1010 mg/g at bed height of 4 cm with a volumetric flow rate of 1.5 mL/min. The maximum adsorption capacity was obtained with an increased height of the bed and de- creased volumetric flow rate. Selenium doped zeolite packed column exhibited improved elim- ination of E. coli, which can be utilized in the future to treat water-containing pathogenic mi- croorganisms.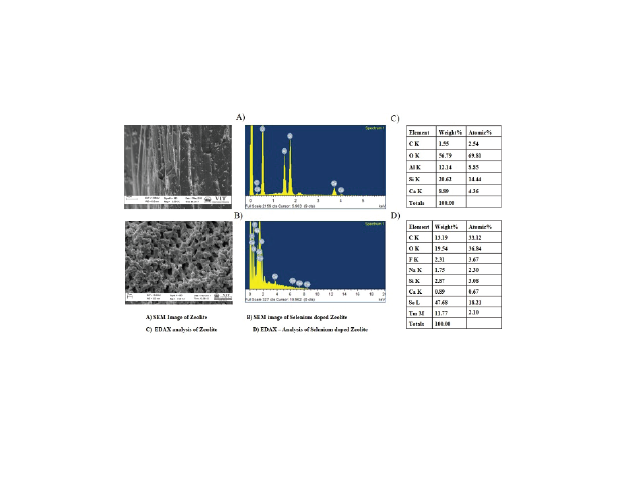 Downloads
How to Cite
V, J., & Subramanian, S. . (2022). Transportation and Removal of E.coli K-12 Through Selenium Doped Zeolite Packed bed Reactor. Current Trends in Biotechnology and Pharmacy, 16(Supplement 1), 47–55. https://doi.org/10.5530/ctbp.2022.2s.30