Assessment of Seed Germination and Growth of Vigna radiata L in the Presence of Green Synthesised and chemically Synthesised Nanoparticles
Keywords:
Silver nanoparticle, Aloe vera, Rosa indica, Germination, Root growth
Abstract
With the fast developments in nanotechnology, the production of nanomaterials has constantly been expanding, and phytotoxicity by nanoparticles (NPs) is now becoming a major stress factor for plant growth and productivity. Considering the wide applications of NPs in various industries, a feasible way to overcome this stress is to rely on alternative sustainable routes of synthesis. Green nanotechnology is a fast-growing field that offers sustainable options for NP production. In the present study, we targeted the production of silver nanoparticles in a green protocol using the leaf extract of Aloe vera and Rosa indica as an alternative to chemically synthesised AgNP and examined its impact on the growth of seedling and root of a commonly cultivated plant, Vigna radiata L. AgNP formation by green protocol was evident from the colour change of the solution and confirmed by determining the Plasmon resonance peak. The involvement of various phytocomponents in nanoparticle synthesis was identified by Fourier-transform infrared (FTIR) spectroscopy. We identified that chemically synthesised AgNP could create stress in Vigna radiata seeds, thereby inhibiting its germination. The presence of green synthesised AgNPsfrom Aloe vera and Rosa indica showed a germination rate of 88.46 % and86.96 %, respectively. Further observation ofthe root growth parameters have shown that the presence of green synthesised AgNP induced root growth as evident from the increased root length with proper adventitious root formation; indicating an adaptive root development for the plant's response to its environment, which can be further utilized in nano-agriculture sector for crop improvement.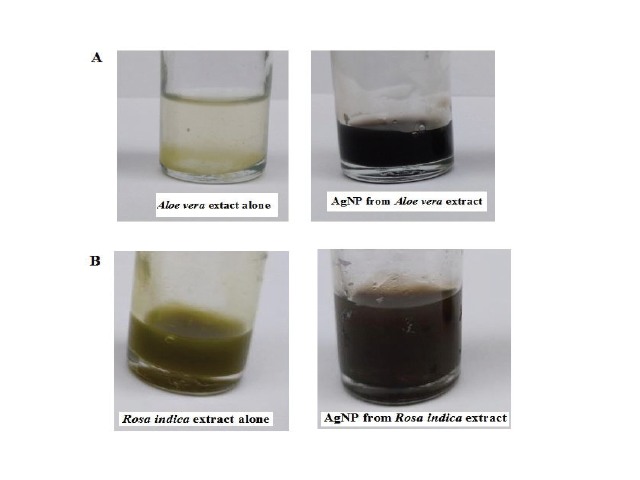 Downloads
How to Cite
T R, A., S, P. ., S, S. ., J, J. ., & M, M. . (2022). Assessment of Seed Germination and Growth of Vigna radiata L in the Presence of Green Synthesised and chemically Synthesised Nanoparticles. Current Trends in Biotechnology and Pharmacy, 16(Supplement 1), 38–46. https://doi.org/10.5530/ctbp.2022.2s.29