Preservation of Antioxidant Activity and Polyphenols in Mentha spicata L. with the Use of Microencapsulation by Calcium Alginate
Keywords:
Mentha spicata, Polyphenols, Antioxidant activity, Encapsulation, Calcium alginate
Abstract
AbstractNatural polyphenols have scavenging characteristics for radical oxygens species and chelating properties towards proteins. Due to these properties, the polyphenols are used for the treatment of several diseases such as inflammation, cancer or diabetes and are also used additionally in cosmetic formulations and nutraceutical applications. The benefit of encapsulation is less evaporation and degradation of volatile active compounds. It masks unpleasant feelings during eating, such as bitter taste and astringency of polyphenols. However, their limited stability or solubility, often combined with poor bioavailability, have to be resolved to make these compounds more able to answer growing demands in cosmetics, nutrition, and health.We attempted to develop an efficient encapsulation procedure that can enhance the encapsulation amount of polyphenols and in turn, enhance the antioxidant activity of Mentha spicata (Mint or Pudina) for three months at room temperature. Ethanolic extracts containing polyphenols were prepared. Effect of time and temperature on polyphenol release from calcium alginate encapsulated Mentha spicata leaf extract was studied. Results show that calcium alginate influenced microencapsulation efficiency, polyphenol content, and stability. The short-term stability of micro-encapsulated beads was studied for three months. It was observed the polyphenol content and antioxidant activity remained stable in encapsulated beads compared to unencapsulated beads. Thus, Calcium alginate encapsulated beads prove to be a promising technique for food supplements / nutraceuticals.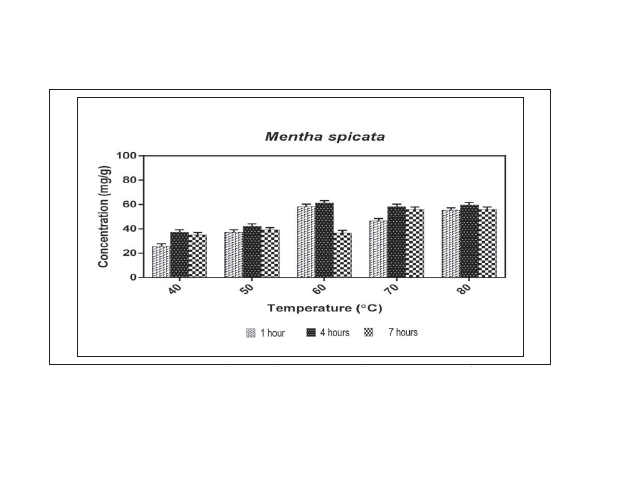 Downloads
How to Cite
Basu, R. ., Lal, M. ., Govindarajan, S. ., Babu, S. N. ., & Noor, A. . (2022). Preservation of Antioxidant Activity and Polyphenols in Mentha spicata L. with the Use of Microencapsulation by Calcium Alginate. Current Trends in Biotechnology and Pharmacy, 16(Supplement 1), 28–37. https://doi.org/10.5530/ctbp.2022.2s.28