Endophytic Bacteria Bacillus amyloliquefaciens(Pj2) Im-parted Growth Promotion and Enhanced Drought Stress Tolerance of Peanut
Keywords:
Drought stress, Peanut,, Endophytic bacteria,, Plant Growth promotion bacteria, Bacillus amiloliquefaciens
Abstract
Endophytic bacteria have been described for abiotic stress mitigation and plant improvement. The present study aims to isolate the endophytic bacteria from stress-tolerant P.juliflora plant roots and evaluate properties of PGP in vitro and the effect of endophyte in non-host plants i.e, peanut (Arachis hypogaea L.) under drought stress conditions. Among the fifteen individual endophytic bacterial strains isolated, five strains (Pj2, Pj4, Pj6, Pj10, Pj12) displayed drought tolerance. Further, one of the selected strains Bacillus amiloliquefaciens TG4 (Pj2), produced extracellular enzymes and plant growth-promoting activities. Plant growth-promoting activity of Pj2 in a non-host crop, the peanut, was established by infecting it, and its effect was studied in induced drought stress for ten days. The Pj2 inoculation positively affects peanut growth morphological and biochemical parameters under irrigated and drought stress conditions compared to non-inoculated plants. Our data suggest that peanut plants can be colonized with the endophytic bacteria for improved drought tolerance.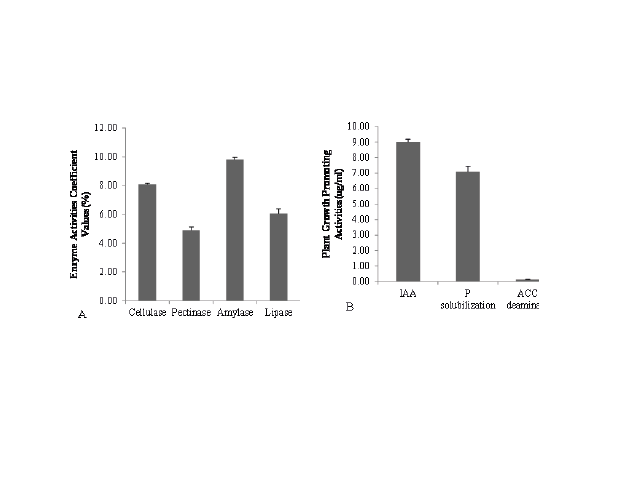 Downloads
How to Cite
Kandi, S. R., Kunduru, S. ., Guduru, K. K. ., KT, P. N., Y, N. R. ., Akila, C. S. ., Puli, C. O. R., & Bolupalli, S. . (2022). Endophytic Bacteria Bacillus amyloliquefaciens(Pj2) Im-parted Growth Promotion and Enhanced Drought Stress Tolerance of Peanut. Current Trends in Biotechnology and Pharmacy, 16(2), 165–181. https://doi.org/10.5530/ctbp.2022.2.16