Repercussions involved in global food security during unprecedented times of COVID recession
Keywords:
COVID-19, Food security, Malnutrition, Unprecedented times, Health, Zero hunger
Abstract
In the current COVID-19 pandemic, the inextricably intertwined relationship between malnutrition and poverty props up the risk of food insecurity which is the leading cause for extreme hunger. In spite of social and economic progress, the global burden of malnutrition continues to be unacceptably high. Nutritional status, human capital, and economic position all have an important link. Malnutrition has a negative impact on people's physiological and mental capacities, which reduces productivity and makes them and their nations more vulnerable to poverty. The inequalities in reduced access to the health care system and food insecurities like inadequate access to food, insufficient supply, and the inappropriate use of food are directly linked to food insecurity, which is a very serious public health challenge. No poverty, zero hunger, good health, and well-being are the top three UN Sustainable Development Goals. The COVID-19 situation is expected to have an impact on all three of these objectives. Current efforts to promote the availability and accessibility of healthy food and water to disadvantaged communities should be improved. There is a need to develop current healthy standards and eating pattern suggestions that are practical to follow during a pandemic. Public policies focused on ensuring the human right to adequate food must be revamped and implemented for effective population policies in contexts of poverty is the need of the hour. This article aims to explore food insecurity among people from the socially disadvantaged and vulnerable groups and impoverished families during the COVID-19 pandemic with special reference to India.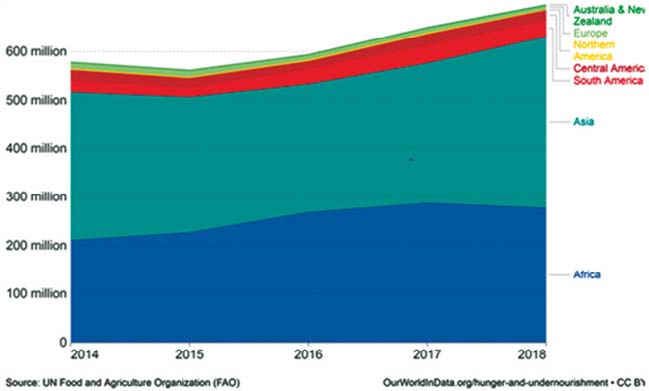 Downloads
How to Cite
Prasanna, N., & Varshney, S. . (2021). Repercussions involved in global food security during unprecedented times of COVID recession. Current Trends in Biotechnology and Pharmacy, 15(4), 471–475. https://doi.org/10.5530/ctbp.2021.4.49