In Vitro Production of Embelin from Callus Cultures of Embelia ribes
Keywords:
Embelia ribes, Embelin, secondary metabolite,, callus culture
Abstract
E. ribes is an extremely valuable medicinal plant, containing Embelin as its main active component. Due to poor natural regeneration and over exploitation this species is red-listed. Traditional methods of propagation of E. ribes are not enough to meet the demands of the drug. However, in vitro production of Embelin from cell cultures of E. ribes is an alternative for obtaining this compound in large amounts, particularly in shorter duration. In order to achieve this, callus initiation from leaf explants of E. ribes and its multiplication were studied using varied concentrations and combinations of plant growth regulators in different genotypes. MS medium containing 2,4-D and BAP yielded maximum callusing and friable callus with high proliferation rate. Embelin was extracted from the callus in chloroform, which was then identified by chemical analysis, and quantified spectrophotometrically. The maximum quantity of Embelin produced in leaf induced callus was 0.632% (w/w), which was more than 3.5 times the amount extracted from in vitro grown leaves. Among the four genotypes screened, callus from genotype S1 accumulated maximum amount of Embelin on dry weight basis, showing that the production of Embelin is genotype specific. Our study also shows that increased Embelin can be produced by leaf induced callus cultures of E. ribes as compared to ex vitro and in vitro grown leaves. The outcome of this study can be potentially utilised for large scale production of Embelin through cell culture techniques, without depending on extraction from natural populations, thereby aiding in their conservation as well.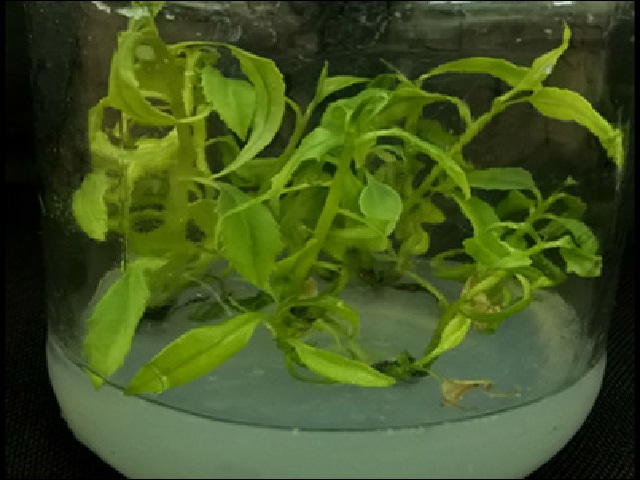 Downloads
How to Cite
Hamalton, T., U, J., & Khannam, A. (2022). In Vitro Production of Embelin from Callus Cultures of Embelia ribes. Current Trends in Biotechnology and Pharmacy, 16(1), 56–63. https://doi.org/10.5530/ctbp.2022.1.6