Antioxidant Property and Free Radical Scavenging Activity of Hedyotis scandens (Roxb). Rubiaceae
Keywords:
Hedyotis scandens, Free radical scavenging, Antioxidants, Total Flavonoid and Total Phenol Content
Abstract
Hedyotis scandens Roxb is a common medicinal plant locally utilised for the treatment of diseases in many communities, especially in Mizoram. However, scientific evidence for its therapeutic properties is quite poor and no scientific validation is available of its antioxidant capacity, as per our knowledge. Therefore, the present study aims to investigate the phytochemical constituents and therapeutic potential of the aqueous leaf extract of Hedyotis scandens Roxb. Free radical scavenging activity was determined in a cell free system. The aqueous leaf extract of Hedyotis scandens inhibited the generation of ABTS 2, 2'- azinobis-( 3-ethylbenzothiazoline-6-sulfonic acid), DPPH (1, 1-diphenyl-2-picrylhydrazyl) and nitric oxide in a concentration dependent manner. The IC50 for DPPH was found to be 68.03 ± 0.15 μg/ml, IC50 for ABTS was 53.165 ± 0.3 μg/ml and the IC50 for Nitric oxide scavenging activity was found to be 173.15 ± 0.25μg/ml. Phytochemical analysis of the plant extract revealed the presence of 23.67 ± 0.003 GAE mg/g of Total Phenolic Content and 27.44 ± 0.28 QE mg/g of Total Flavonoid Content. The total antioxidant activity of the plant extract when compared to standard Ascorbic acid was found to be 51.11 ± 1.03 AE mg/g. The reducing power assay showed concentration dependent activity against potassium ferricyanide.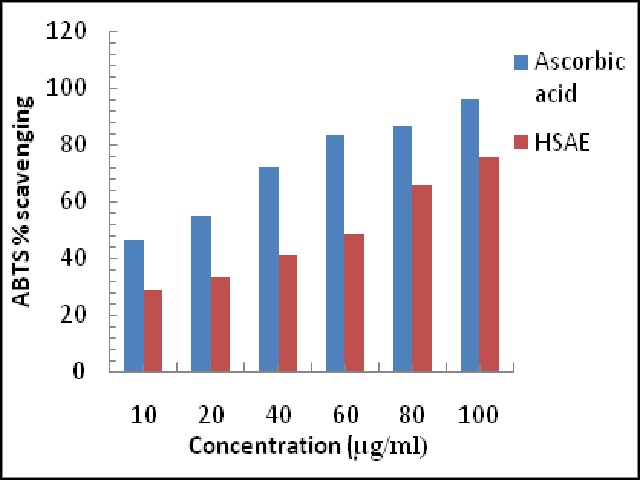 Downloads
How to Cite
Ngamlai, E. V., Lalthanpuii, P., Lalbiaknii, P. C., Ralte, V., & Lalnunmawia, F. (2022). Antioxidant Property and Free Radical Scavenging Activity of Hedyotis scandens (Roxb). Rubiaceae. Current Trends in Biotechnology and Pharmacy, 16(1), 46–55. https://doi.org/10.5530/ctbp.2022.1.5