Anti-melanogenic Potential of Acalypha indica Ethyl Acetate Fraction on Zebra fish Embryos
Keywords:
Acalypha indica, hyperpigmentation, Zebra fish, Melanoma cell line, Melanin content
Abstract
Acalypha indica is a very well-known medicinal plant that is widely used for treatment of skin diseases and other ailments. Many studies have explored the medicinal properties of the different extracts from this plant, only very little information is available on its antimelanogenic activity. Hence the present study is focused on the anti-melanogenic activity of Acalypha indica.The study was carried out in vivo in zebrafish model for anti-melanogenic activity and also to find out the cytotoxicity of the extract on A375 melanoma cell line as in vitro anti-melanogenic model. Sequential extraction was carried out on whole plant using methanol as solvent by cold percolation method. Various fractions was prepared using Butanol, Hexane, Chloroform and Ethyl acetate, Aq. Ethanol with the increasing polarity of the solvent. To screen the active fraction; quantification of secondary metabolite, in-vitro antioxidant activity and the anti-melanogenic activity was performed. The active fraction was chosen and the in-vivo anti-melanogenic activity was studied in Zebra fish. Among the various fractions, the total polyphenols and flavonoids was high in Ethyl acetate fraction. The in-vitro antioxidant activity was screened using DPPH and ABTS assay. The activity was high in Ethyl acetate fraction with the IC50 value OD 42.75 and 14.55 μg/ml for the DPPH and ABTS activity respectively. Cytotoxicity study on A375 melanoma cell line was performed to find out the bioactivity of the sequentially fractionated extracts and the activity was found to be high in ethyl acetate fraction with the IC50 value of 6.6 μg/ml. Therefore the in-vivo activity was performed using the Ethyl acetate fraction in Zebra fish. Compared to positive Control (Group IV) the test group (Group II & III) exhibited substantial anti-melanogenic activity in phenotype based evaluation. Quantification of ocular melanin content also showed dose dependent depletion of melanin pigment. Melanin content of zebra fish embryos (whole organism) also showed the significant depletion of melanin. The heart rate was recorded for 30S and no significant variations among the experimental groups (Group II, III, IV, V) in the heart rate was observed. To study the active compound present in the extract, LC-MS analysis was carried out. LC-MS analysis of the ethyl acetate fraction showed the presence of 41 compounds with potent biological activity. Therefore, further study has to be performed to elucidate the potential activity of Acalypha indica against hyperpigmentation.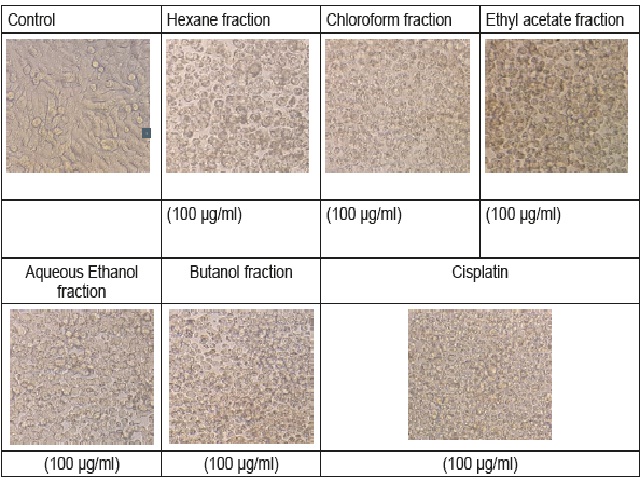 Downloads
How to Cite
D, K. ., & V, A. . (2022). Anti-melanogenic Potential of Acalypha indica Ethyl Acetate Fraction on Zebra fish Embryos. Current Trends in Biotechnology and Pharmacy, 16(1), 23–34. https://doi.org/10.5530/ctbp.2022.1.3