A Sustainable approach for Phytoremediation of Amoxicillin using Ocimum basilicum
Keywords:
Amoxicillin, Phytoremediation, Green leaf volatiles, Antibiotics, GC-MS,, HPTLC
Abstract
The current study aims to evaluate the remediation potential of Ocimum basillicum for amoxicillin and its toxicological impact on plants. Ocimum basillicum was grown with 200 mg kg-1 to 600 mg kg-1 amoxicillin in soil. After 4 weeks of analysis, its content in root, shoot and soil was analyzed by HPTLC. Ocimum basillicum showed 48.3 % remediation capability with 200 mg kg-1 of amoxicillin. Secondary metabolites analysis was also performed by GC-MS for toxicity analysis. linalool oxide, menthol acetate, para- methoxy cinnamic aldehyde and caryophyllene oxide completely degraded in plants due to toxicity caused by amoxicillin. Current study also assessed the toxic effect on photosynthetic pigments along with antioxidant enzymes of plants, where decreased level of catalase (41.09–29.88 Umin- 1 g-1) and glutathaione peroxidase (43.76–40.58 Umin-1 g-1) was observed. Ocimum basilicum is reported to have ability to remediate heavy metals from the soil, therefore this study investigates its ability to remediate antibiotic. Hence, overall results indicate that, the phytoremediation rate shown by Ocimum basilicum is very promising and amoxicillin also showed its toxicological impact on plants.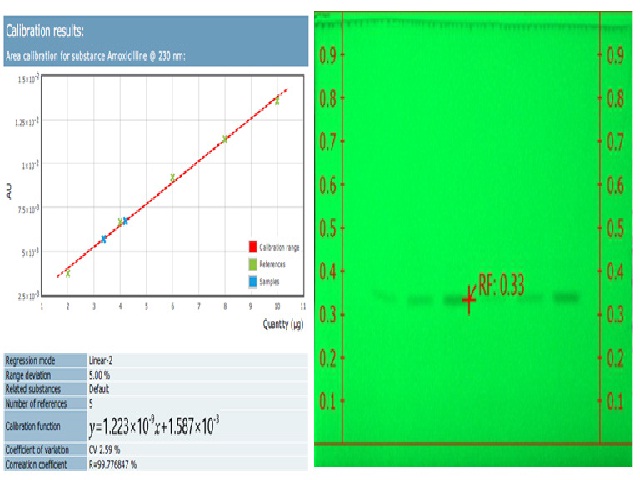 Downloads
How to Cite
Bhatt, E. ., & Gauba, P. . (2021). A Sustainable approach for Phytoremediation of Amoxicillin using Ocimum basilicum. Current Trends in Biotechnology and Pharmacy, 15(4), 426–435. https://doi.org/10.5530/ctbp.2021.4.45