A Simple Laccase Based Amperometric Biosensor for Detection of Phenolic Azo Dyes- A Comparative Study on Different Membranes as Immobilization Supports
Keywords:
Amperometric, Biosensor, Co-crosslinking, Eriochrome black-T,, Laccase
Abstract
Detection of azo compounds and phenolic azo compounds are important because of their multiple applications in the area of technology and medicine. They are well known for their use as analytical reagents, in the dye industry. Most widely used methods for determination of azo compounds are HPLC, GC, voltammetric and capillary electrophoresis. These existing conventional methods are laborious, time consuming and require sophisticated instruments as well as sensitive sample preparation prior to analysis. An effective alternative technique is the use of biosensor. The aim of this work was to detect phenolic azo compound by an amperometric laccase based biosensor with simple oxygen sensing using Eriochrome Black T (EBT) as the model substrate. The optimum operational conditions for the biosensor were investigated and the system was calibrated for detection of phenolic azo dye, EBT. Laccase from Trametes versicolor was immobilized on different membranes on Clark type DO sensor by co-crosslinking with bovin serum albumin (BSA) and glutaraldehyde. The behaviour of laccase-based amperometric biosensors on three different membranes like cellophane, nylon and chitosan/TEOS/EG membranes were compared. Among the various membranes tested, nylon membrane was superior to the other methods in terms of sensitivity, limit of detection (LOD), response time while cellophane membrane was found to be the best in terms of operating and thermal stability. Biosensor response reached steady state within 3min and exhibited maximum activity at 450C and pH 6.8. Validation of the newly developed biosensor by comparison with HPLC, showed good agreement in results. This method demonstrated excellent selectivity and sensitivity towards the selected phenolic azo compound.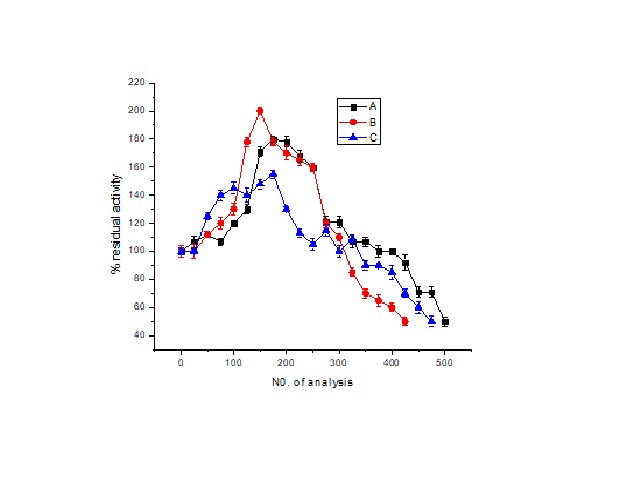 Downloads
How to Cite
Sarika, C. ., Rekha, K., & murthy, B. N. (2021). A Simple Laccase Based Amperometric Biosensor for Detection of Phenolic Azo Dyes- A Comparative Study on Different Membranes as Immobilization Supports. Current Trends in Biotechnology and Pharmacy, 15(4), 408–415. https://doi.org/10.5530/ctbp.2021.4.43