Simple and Fast Stability Indicating UPLC Method for the Simultaneous Quantification of Vildagliptin and Remogliflozin Etabonate in Bulk Drug and Formulations
Keywords:
Vildagliptin, Remogliflozin, UPLC method development, Method Validation, Forced degradation study, Formulation assay
Abstract
This study reports for the first time about a stability indicating RP-UPLC method for separation and simultaneous of vildagliptin and remogliflozin etabonate. The separation was achieved on Acquity® UPLC BEH C18 (2.1 × 50 mm, 1.7 μm) column as stationary phase, 0.1 M acetate buffer at pH 5.7 and methanol in the ratio of 25:75 (v/v) at 0.3 mL/min flow rate and PDA detector at 215 nm. In these conditions, the resolution of the compounds was obtained as 12.57 with retention time of 2.67 min for remogliflozin and 3.84 min for vildagliptin. The method was validated for system suitability, range of analysis, precision, specificity, stability and robustness. Forced degradation study was done through exposure of the analytes to five different stress conditions and in all the degradation condition, the % degradation was very less, and the method can separate and estimate the vildagliptin and remogliflozin in pharmaceutical formulations. Hence the developed method was found to be suitable for the separation and simultaneous quantification of vildagliptin and remogliflozin in bulk drug and pharmaceutical formulations.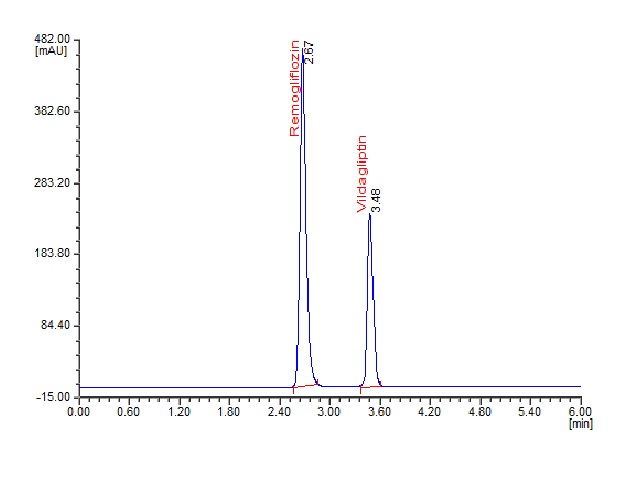 Downloads
How to Cite
Ali, S. M. ., Bharath, P. ., Sharif, S. K., & Ramachandran, D. (2021). Simple and Fast Stability Indicating UPLC Method for the Simultaneous Quantification of Vildagliptin and Remogliflozin Etabonate in Bulk Drug and Formulations. Current Trends in Biotechnology and Pharmacy, 15(4), 401–407. https://doi.org/10.5530/ctbp.2021.4.41