In vivo cardioprotective effect of a polysaccharide from Lycium europaeum on cisplatin-induced heart injury in mice
Keywords:
Lycium europaeum, Cisplatin, Cardioprotective, Polysaccharide, Heart injury
Abstract
In this study, we aimed to investigate the possible cardioprotective effect of a water-soluble polysaccharide (LEP) from the leaves of Lycium europaeum against cisplatin (CP)-induced heart injury in mice model.
Mice (31 ± 2 g) were divided into four groups (n=6) as follows: Group (1) control, Group (2) LEP alone (100 mg/kg, p.o.), Group (3) CP (10 mg/kg, i.p.), Group (4) LEP + CP and Group (5) Atorvastatin, 10 mg/kg) + CP. To assess the efficacy of LEP treatment against CP-induced cardiotoxicity, lipid peroxidation, biochemical parameters and histopathological examinations were conducted.
CP administration induced severe heart injuries and elevated lipid peroxidation levels. However, LEP pretreatment reduced cardiovascular diseases, which has been evinced by amelioration in parameters such as triglyceride, total cholesterol, lactate dehydrogenase, low-density lipoprotein-cholesterol and high-density lipoprotein-cholesterol. In addition, cardiac indexes, atherogenic indexes, and coronary artery indexes were significantly improved in Group (4) when compared to CP intoxicated animals. Moreover, LEP administration to CP-treated mice obviously mitigated the malondialdehyde level when compared to Group (3). The histopathological observations also demonstrated that LEP pretreatment significantly restored the damage induced by CP.
These results advised that LEP improved myocardial injury and could be recommended as a potential candidate for the development of new cardioprotective agents.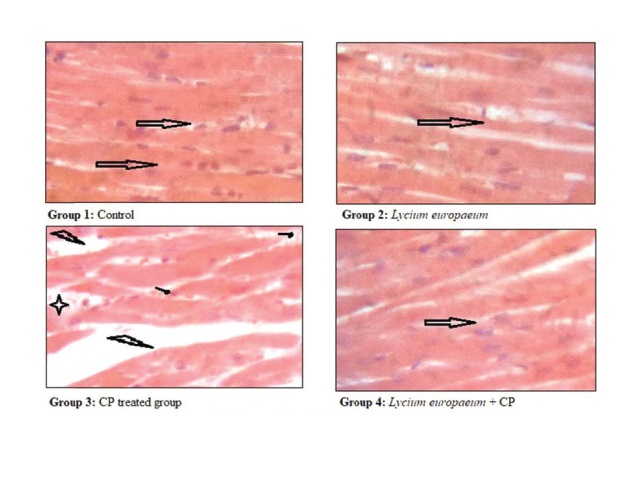 Downloads
How to Cite
Rjeibi, I., Feriani, A., & Hfaiedh, N. (2021). In vivo cardioprotective effect of a polysaccharide from Lycium europaeum on cisplatin-induced heart injury in mice. Current Trends in Biotechnology and Pharmacy, 15(1), 79–86. https://doi.org/10.5530/ctbp.2021.1.9