Anti-inflammatory attributes using Protein denaturation by Deca-noic acid (Saturated fatty acid) Isolated and Identified from Tridax-procumbens L
Keywords:
Anti-inflammatory, Tridax procumbens L, Decanoic acid, Clot Lysis
Abstract
Tridax procumbens is a common herb with significant medicinal properties traditionally used in the treatment of many diseases. In the present investigation the compound isolated from ethanol extract of T. procumbens exhibited high antifungal, against clinically important human pathogens such as Candida albicans and Malassezia sp with low MIC values, the compound later evaluated for anti-inflammatory activity by protein denaturation method and showed moderate results, than the compound also tested for clot Lysis activity and the results indicated that the compound has a good clot Lysis activity. The fractionation of ethanol extract with dichloromethane yielded an oily viscous semi-solid drug with Antifungal, Anti-inflammatory and Clot Lysis activities which was separated by PTLC and Column chromatography and subjected to further identification and structural elucidation by spectral analysis such as FT-IR, Proton NMR and GC–MS, Spectral analysis and interpretation of spectral data revealed that the isolated compound was the Decanoic acid (Saturated fatty acid. This study demonstrated the efficacy of this herb and isolated compound against clinically important Dermatophytes, Anti-inflammatory and Clot Lysis activity. These research findings also justified that the T. procumbens was strong traditional medicinal plant used by our ancestors in India.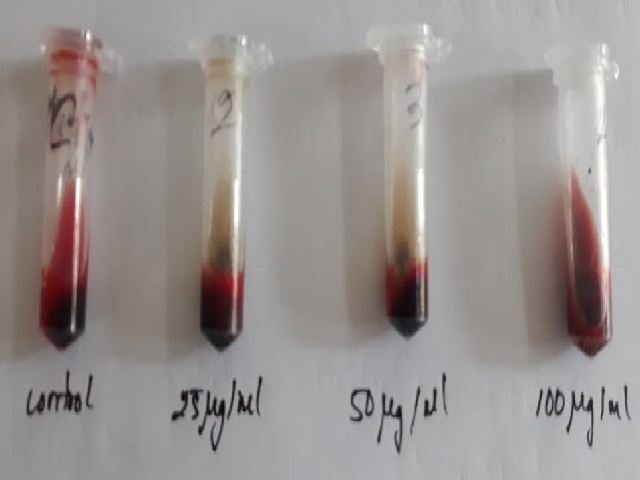 Downloads
How to Cite
Nayaka, L. B. ., K, L. ., Malsawmtluangi, & MS, M. . (2021). Anti-inflammatory attributes using Protein denaturation by Deca-noic acid (Saturated fatty acid) Isolated and Identified from Tridax-procumbens L. Current Trends in Biotechnology and Pharmacy, 15(5), 444–451. https://doi.org/10.5530/ctbp.2021.3s.38