Adaptability Assessment of Bruguiera gymnorrhiza from the Four Southern Districts of Kerala: Analytical and Biochemical Approach
Keywords:
Mangroves, Plant-physiology, Adaptability, Methyl Commate B, Biochemical analysis
Abstract
The comparative adaptability of the species Bruguiera gymnorrhiza from the southern districts of Kerala viz., Kollam, Alappuzha, Cochin and Thrissur was assessed in-vitro. B. gymnorrhiza being a salt-sensitive plant must be carefully analyzed before restoration practices. Without efficient ROS scavenging, the plant will not be able to survive the salinity fluctuation, there should be an equilibrium between both. The study reveals the adaptability of mangroves to salt tolerance assessed through secondary metabolites and enzymatic activity for the promotion of antioxidant activity with respect to salinity fluctuation from the four districts. The presence of secondary metabolites was further confirmed by GC-MS analysis. The plant thrived better in optimum salinity, and the highest phenolic content was obtained from Kollam. The antioxidant activity of DPPH and Fe2+ was higher in the Alappuzha sample and the ABTS+ was higher in the leaf sample collected from Thrissur. Methyl Commate B was reported for the first time in mangroves and from the species B. gymnorrhiza. Being a novel identification, it would pave the way for the medicinal use of the species and the SEM-EDX results reveal the high sequestration capacity of the plant.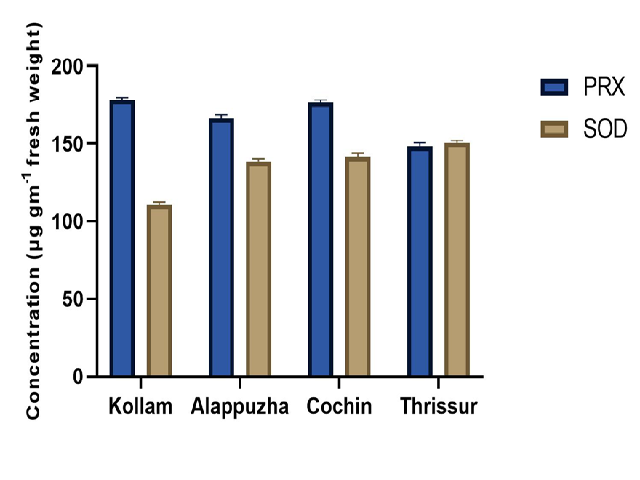 Downloads
How to Cite
S, S. ., Vel, V. S. ., & Arunprasath, A. . (2023). Adaptability Assessment of Bruguiera gymnorrhiza from the Four Southern Districts of Kerala: Analytical and Biochemical Approach. Current Trends in Biotechnology and Pharmacy, 17(Supplement 3B), 1303–1315. https://doi.org/10.5530/ctbp.2023.3s.65