Genomic Report on Lycopersene Producing Streptomyces sp. VITGV38
Keywords:
Secondary metabolite, Streptomyces, Antimicrobial, Pigment, Gene cluster, lycopersene, Carotene
Abstract
Streptomyces sp. VITGV38 is an endophyte from tomato plant (Lycopersicon esculentum). It produces potential secondary metabolites, like coelichelin, coelibactin, hopene, undecyl prodigiosin, geosmin, albaflavenone, germicidin, ectoine, and desferrioxamin B are commercially important in human and veterinary medicine. The potentiality of this genus Streptomyces is the diversity of its secondary metabolites. The three days old culture in starch casein agar plates showed their purple colouration. This was transferred to broth culture to analyse the pigment. GC-MS analysis of the crude extract (ethyl acetate) revealed pigmented compounds like lycoperesene at 25.094 retention time with 1.26% of the total crude extract. Whole genome sequence analysis of Streptomyces sp. VITGV38 reveals the complete genome has 7.8 million base pairs, twenty-six different kinds of secondary metabolite gene clusters were found. antiSMASH was used for the identification, annotation and analysis of metabolite gene clusters. The gene clusters for terpene (62%) produce pigments such as carotenoids, β-carotenes & isorenieratene. Four nonribosomal clusters involved in the biosynthesis of peptide compounds that encodes coelichelin, coelibactin, α-lipomycin & undecylprodigiosin are reported.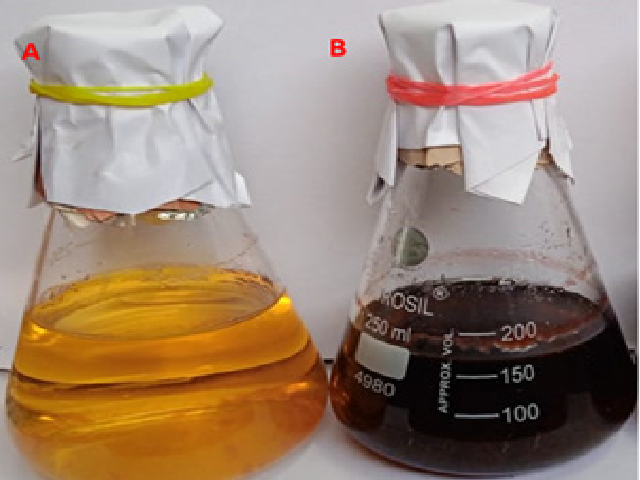 Downloads
How to Cite
P, V. ., K, N. ., & Christopher, J. G. . (2023). Genomic Report on Lycopersene Producing Streptomyces sp. VITGV38. Current Trends in Biotechnology and Pharmacy, 17(Supplement 3B), 1245–1251. https://doi.org/10.5530/ctbp.2023.3s.60