In Silico Evaluation of Phytochemicals as PI3K/AKT/mTOR Inhibitors for the Treatment of Breast Cancer
Keywords:
Breast cancer, AKT/PI3K/mTOR inhibitors, Diclofenac, Piperine, d-Limonene
Abstract
Breast cancer is the most common type of cancer and the second most common cause of death. Influential and widely accepted breast cancer prevention strategies are still elusive. Aspirin and other nonsteroidal anti-inflammatory drugs, such as ibuprofen, are frequently recommended to treat fever, pain, and inflammation. Studies have shown that these medications also have anticancer effects. A key target of tumor-targeted therapy has been discovered in recent years, and it is the PI3K/AKT/mTOR signalling pathway. In order for tumour cells to proliferate, develop, migrate, and survive, the PI3K/AKT/mTOR signalling system is essential. So, using in silico analysis, we chose to determine whether the NSAID Diclofenac and other phytochemicals have anticancer properties and also act as PI3K/AKT/mTOR inhibitors. We conducted docking analyses for the drugs diclofenac, piperine, naringin, eugenol, d-limonene, cinnamaldehyde, and curcumin versus the FDA-approved AKT/PI3K and mTOR inhibitors alpelisib, rapamycin, and afuresertib. Both bioactivity and ADMET profiling were done for these drugs. We concluded from our in silico analysis that diclofenac, d- limonene, and piperine do not contradict any of Lipinski's rules and can be effective AKT/PI3K/mTOR inhibitors.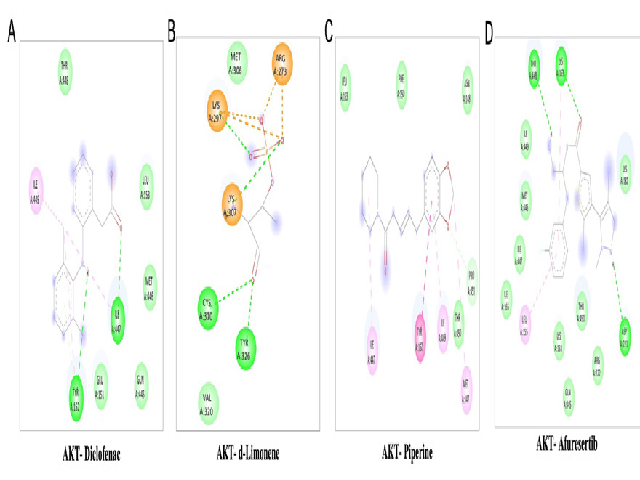 Downloads
How to Cite
Sankar, S., Jayaraj, R. ., Easwaran, N., & Muthukaliannan, G. K. (2023). In Silico Evaluation of Phytochemicals as PI3K/AKT/mTOR Inhibitors for the Treatment of Breast Cancer. Current Trends in Biotechnology and Pharmacy, 17(Supplement 3B), 1232–1244. https://doi.org/10.5530/ctbp.2023.3s.59