Statistical Optimization of Enzymatic Transesterification Process to Produce Biodiesel from Honge Oil
Keywords:
Statistical optimization, Box Behnkem design, Transesterification, Immobilized lipase & biodiesel
Abstract
The increasing environmental and economic concerns regarding the use of fossil fuels have led to the exploration of alternative energy sources that are renewable, ecofriendly, economically viable, and sustainable, to meet the growing energy demand. Biodiesel is a promising alternative fuel that has similar properties to diesel and can replace conventional diesel. Biodiesel is synthesized using oil sources and can be produced through transesterification processes, which can be catalyzed by chemical catalysts like NaOH/KOH or enzymes such as lipase. Enzymatic transesterification is a promising process for biodiesel production over chemical transesterification. In this study, Honge oil was converted to FAME (fatty acid methyl ester) using locally prepared immobilized beads of lipase extracted from an isolated strain of bacteria, Lysinibacillus macroides FS1. A statistical design was used to evaluate the impact of effective variables such as the amount of immobilized lipase (%), pH, and agitation speed (rpm) on biodiesel yield. The results showed that these factors had a positive effect on biodiesel production, indicating that the model is highly significant at a 95% confidence level. The optimum factors were found to be an amount of immobilized lipase of 12.5%, pH of 7, agitation speed of 125rpm, molar ratio of 1:3, temperature of 45°C, and reaction time of 24 hours, which yielded 96% yield. The model yields of 96% under these optimum conditions with one-time addition of methanol indicate that the prepared immobilized lipase is methanol tolerant, which has the potential for costeffective large-scale production of biodiesel.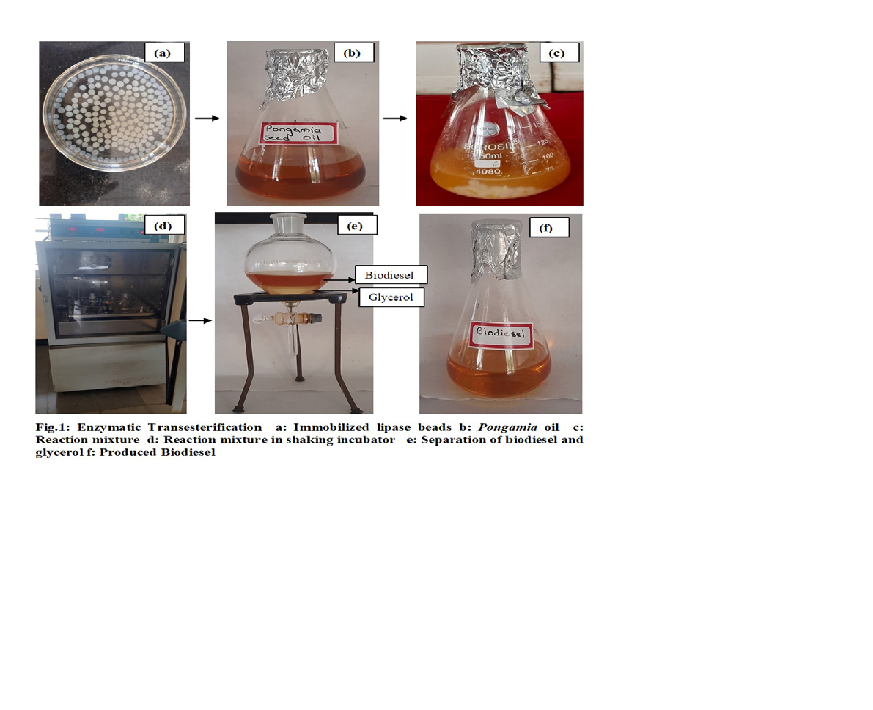 Downloads
How to Cite
Jigajinni, S. K., Meti, B. S., Nymangoudar, S. ., & Patil, S. (2023). Statistical Optimization of Enzymatic Transesterification Process to Produce Biodiesel from Honge Oil. Current Trends in Biotechnology and Pharmacy, 17(Supplement 3B), 1208–1222. https://doi.org/10.5530/ctbp.2023.3s.57