The Association of Biotechnology and Pharmacy (ABAP) will be useful to form a forum for scientists so that they can bring together to discuss and find scientific solutions to the problems of society. The annual meetings will help the members to share their knowledge and publish their research knowledge particularly by members and fellows of the Association and special care will be taken to provide an opportunity for young scientists. Besides this the association is planned to organize symposia, seminars and workshops on current developments of Biotechnology and Pharmacy particularly on the subject of current scientific interest, and the proceedings of which will be published regularly. And in view of the vast development of science and to disseminate the problems in publication of research work, an international journal of Current Trends in Biotechnology and Pharmacy has been started by ABAP.
Current Trends in Biotechnology and Pharmacy
Vol 12, Issue 4, Oct 2018: Current Issue
Research Papers
Compatibility and stability of ceftriaxone sodium with peritoneal dialysis solution
Osama Javed, Khalid Hussain; Muhammad Shahzad Aslam
Development of Murine Monoclonal Antibodies, Characterization and Quantification of Diphtheria Toxoid in Vaccine Batches
Praveen Alagangula, Sridevi V Nimmagadda, Vidyasagar Pitta, Dipankar Das, Ralla Kumar, Shukra M Aavula, Mohammed Furman Ali, Premalatha Dasari, Rajendra Lingala
Purification of Foot and mouth disease virus non-structural protein 3ABC from vaccine in-process samples and their characterization
Anil Kumar Jangam, Sridevi V Nimmagadda1, Premalatha Dasari and Rajendra Lingala
An In silico Structural study on Bacterial Sulfite Reductase
Rajeswara Reddy Erva, Rinku.P.Varghese, A.L.Prasanna, G.Madhunika, K.S.Ravi Teja, V.S.Santosh, Satish Babu Rajulapati
Insilico Studies of FOR20 - A Centrosomal Protein
A. RanganadhaReddy, N. MadhanSai, S. Krupanidhi, P. Sudhakar2, and T.C. Venkateswarulu
Evaluation of Antimicrobial Activity of Emblica officinalis against Skin Associated Microbial Strains
Lovey Sharma and Ram Kumar Pundir
Protein Characterization at atomic level: A Novel approach for sequence analysis
Parul Johri, Mala Trivedi, Drishti Srivastava, Aman Kumar Singh and Mohammed Haris Siddiqui
Molecular Phylogenetic Analysis of Indian Apple Snail
Silpi Sarkar and S. Krupanidhi
Evaluation of factors affecting L-asparaginase activity using experimental design
Rania A. Zaki, Mona S. Shafei, Heba A. El Refai , Abeer A. El-Hadi and Hanan Mostafa
Modelling and optimization of L-Asparaginase production from Bacillus stratosphericus.
Madhuri Pola, Chandrasai Potla Durthi, Satish Babu Rajulapati, Rajeswara Reddy Erva
---------------
NAAS Rating (National Academy of Agricultural Sciences, New Delhi) - 4.42
SCImago Journal Rank (SJR) of Scopus® database -
H Index - 7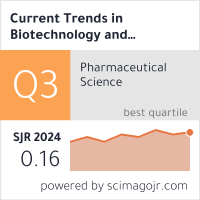 H-Index: 8
SJIF Scientific Journal Impact factor (2015): 5.209
SJR Indexing Factor: 0.15
Index Copernicus Value (2012): 5.13
Indian Citation Index impact factor: 0.049
Research Gate Journal Impact factor: 0.13
NAAS Score of Scientific Journals 4.42